Harry Zook (February 8, 1916 - July 4, 2012)
Harry D. Zook (M163821) was born in 1916 and raised in the Kishacoquillas Valley in central Pennsylvania. He graduated from Penn State University with a B.S. in Chemistry in 1938 and then earned a M.S. from Northwestern and a Ph.D. from Penn State. In 1942, he joined the chemistry faculty at Penn State where he worked for the next 40 years. He co-authored a chemistry textbook, Synthetic Organic Chemistry, with Romeo Wagner in 1953. In 1960 he became assistant head of the Department of Chemistry until 1965, when he was appointed assistant vice-president for research, with responsibility for the Intercollege Research Programs. He was also named associate dean of the Graduate School in 1970.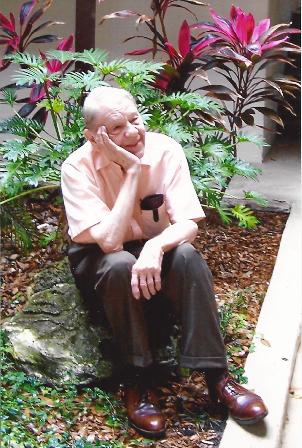 Following his retirement from Penn State, Harry began devoting himself full-time to his interest in Zook genealogy. He and his wife, Margaret, traveled throughout the country, visiting courthouses, libraries, cemeteries, and other genealogists. Applying the same analytical and methodical mind that he had used in his scientific teaching and administrative career (plus new skills in using computers for research and correspondence), Harry began to trace the descendants of the 18th century Zook immigrants in America and to investigate their origins in Europe. His first Zug/Zuck/Zouck/Zook Genealogy was published in 1983. Not satisfied, he continued his research for another 25 years and published his revised and updated second edition in 2009, at the age of 93.
Harry was preceded in death by his wife Margaret (Olsen). He is survived by his children Stephen M. Zook (State College, Pennsylvania) and Terri Zook Johnson (Madison Wisconsin); his grandchildren Michael Zook, Daniel Zook, Amy Zook Castor, Jyothi Froemming, and Naveen Froemming, and his great-grandchildren Mitchell and Oleg Zook and River Caleb Castor. He is also survived by his cousin Grace Weiler and long-time friends Doug Zook and Shelby Woody.
Many thanks to the wonderful people who helped to care for Harry during his final two years in Wisconsin, especially Diane, Oyuna, Dean, Jamie, and Marion of Senior Helpers; staff and neighbors at Middleton Glen; and the staff and volunteers at Agrace Hospice.
Memorials can be made in his name to the Lancaster Mennonite Historical Society, 2215 Millstream Rd., Lancaster, PA 17602, or to the charity of your choice.
We will miss his analytical and methodical intelligence, his quiet and gentle demeanor, his drive to accomplish his goals, his shy, boyish charm, and the twinkle in his blue eyes.